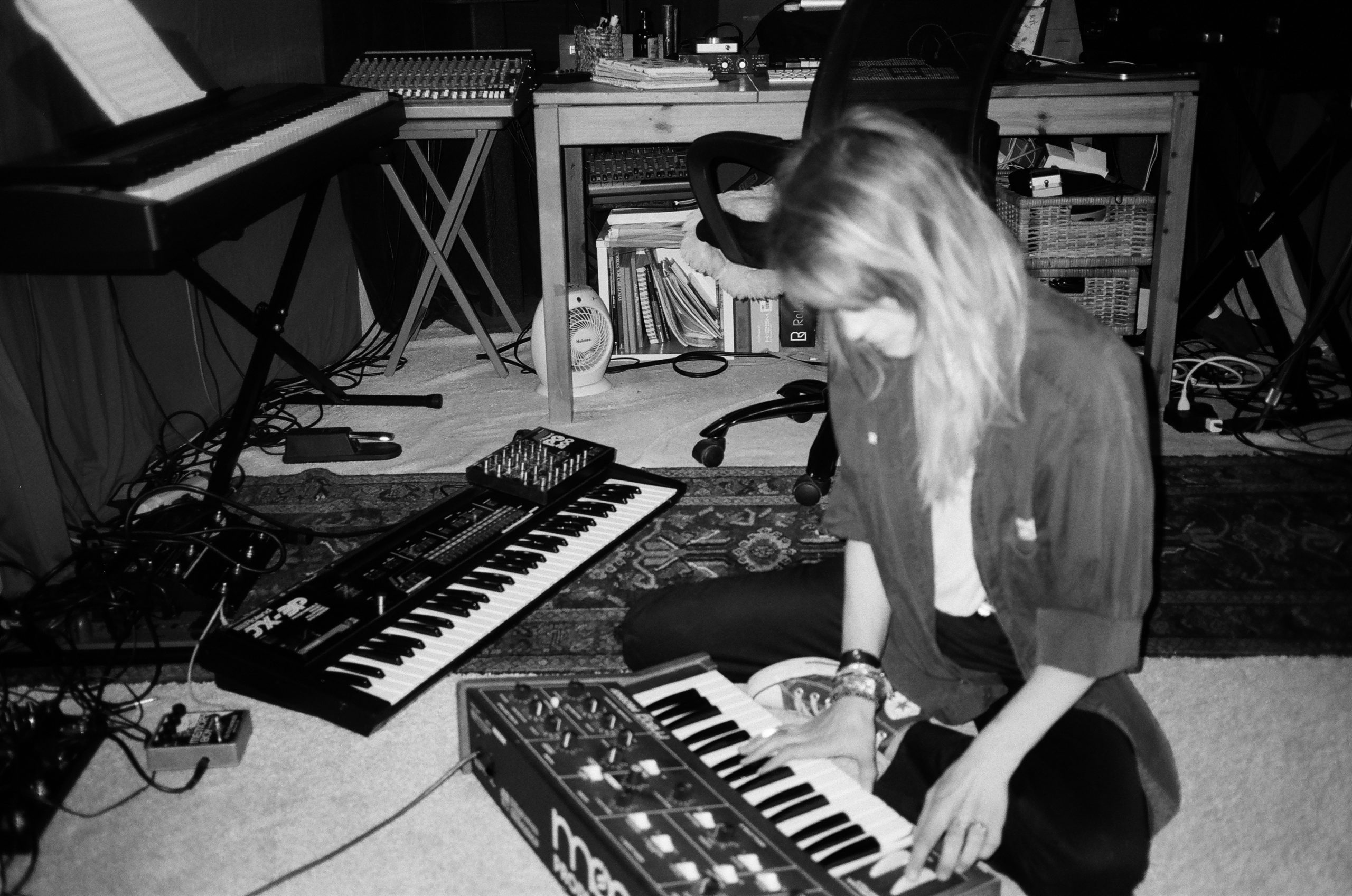 Raised by American parents in Spain, Amy Douglas White always felt a little caught between worlds. "I felt like I never really belonged in the States or in Spain," says the keyboardist and singer, who's performed with artists as varied as M83, West Indian Girl, The Controversy and indie electronic duo Linus and Amy, and currently goes by Douglas. "But also very open to both cultures."
Music was the unifying thread, the universal language that everyone could speak amidst this bicultural upbringing. Her father loved to bang out oldies on a family piano; her brother studied guitar and exposed her to jazz at a young age. Douglas took piano and voice lessons and fell in love with musical theater, landing lead parts in high school plays. She performed in all sorts of talent shows. "The family was very musically oriented," she recalls. 
Ashes, the musician's captivating debut solo album as Douglas (due out April 2021), exudes this sense of feeling caught between worlds—of music buzzing with complexity and cultural fluidity. As a songwriter, Douglas, presently based in Los Angeles, flits between English and Spanish, and traverses the vast space between grief and hope, often within the realm of a single song. Dense with pulsing rhythms and celestial layers of vocals, Douglas's ambient-pop is a hybrid of genres, rooted in melodic hooks and yet rich with abstraction. The singer has been involved with the music industry for more than 15 years, but Ashes is the first album that's wholly her own. 
The album's emotional catalyst was a devastating loss. In 2016, Douglas was forced to terminate a pregnancy at seven months. Tests revealed the baby would have been born with severe issues and would have had too difficult of a life. "We made that really painful decision after a lot of analyzing and diagnosing," Douglas says.
Six months later, Douglas became pregnant with her now-three-year-old son. During the intervening months, she continued to create music, touring Europe as a keyboardist and singer in the alternative electronica group The Controversy. That was fun. But the musician increasingly felt like she wasn't bringing her own creative voice into the world. "I had so much to say and write musically, and I just felt, now or never," she recalls. "I got pregnant, and I was like, 'This is amazing. If all goes well, this will change our lives. And I have to get out the stuff that's been in my head—because when else am I gonna do it?' I just knew I had to get it out."
The pregnancy became a source of both hope and creative motivation: It gave Douglas a natural deadline to complete some of the tracks she had written years prior, and to develop some new ones. Writing songs became a cathartic release. "It was a great healing process," says Douglas. "It was a way to express a bit of that stuck sadness, a way to grieve, and also feel hope. I consider the album a bit of loss and rebirth." 
Sadness and joy swirl together on standout songs such as "Clouds," an ethereal electronica number whose downcast imagery—gloomy clouds, rain mingled with tears—allows surprising glimpses of hope: "Under the darkest cloud/I can see a world/It breathes new," Douglas sings over paint-splattered synths. "Cigarettes" is a stormy techno-pop banger, anchored by a pulsing Moog Prodigy synth refrain and an empowering chorus: the song depicts a woman grappling with a crumbling relationship and finally realizing that her happiness lies in her freedom. 
This emotionally explosive vignette gives way to the wordless bliss of "Tinok," a gorgeous, soft-focus tribute to Douglas's son, Asher. (Tinok means "baby" in Hebrew, her husband's native language.) It's a hopeful song meant to evoke the birth of her son while also echoing the loss of the previous baby. 
The throughline is Douglas's own voice, as versatile as it is expressive: she sings in a sighing murmur on "Tinok" and delivers a turbulent, half-spoken ode to longing and obsession on "Come With Me," a song she initially wrote for her husband before they were together. Brooding tracks like "Dime" and "Melodía" find her singing in a keening, layered falsetto evoking the signature angelic glossolalia of Cocteau Twins' Elizabeth Fraser, one of her longtime influences. 
Douglas's other influences span far and wide: the German downtempo composer Ulrich Schnauss, the enigmatic dubstep of Burial, the blaring techno she heard in nightclubs while growing up in Spain, even the game-changing, post-rock deconstructions of Radiohead. Douglas was working at Capitol Records when Kid A came out. "That just turned my world upside down," she says. "I think they played at the Greek for the tour. I was just transfixed."
Then, in 2007, soon after leaving Capitol Records, Douglas became a member of the neo-psychedelic L.A. band West Indian Girl—her first experience with a professional touring band. "That introduced me to the world of analog synths and playing them live," Douglas says. The band fizzled, but it was through vocalist Mariqueen Maandig Reznor—current wife and collaborator of Trent Reznor—that Douglas was introduced to multi-instrumentalist Justin Meldal-Johnsen, a longtime touring bassist for Beck and Nine Inch Nails, who plays bass on two tracks on Ashes.
It was Meldal-Johnsen who brought Douglas into the orbit of another longtime inspiration: M83, whose glistening, drama-heavy synthwave is echoed in atmospheric passages such as Ashes' intro track, "Pent," and whose Grammy-nominated 2011 double album, Hurry Up, We're Dreaming, credits Douglas for vocal contributions. She sang backing vocals on the single "Steve McQueen" and additionally sang as part of the Purple Mixed Adult Choir that appeared throughout the album. Douglas had been a huge fan of the French group for years, but never anticipated the album's runaway, "Midnight City"-fueled success. "It was all over the radio, all over the world," she says.
And it was Meldal-Johnsen who encouraged Douglas to move on after West Indian Girl dissolved and focus on her own music. "Over time, I developed the tools to learn the software on my own and acquired enough gear to get to the point of making the album," Douglas says. That gear included an enviable stash of analog synthesizers—a Moog Prodigy, which is all over the record, not to mention a Roland JX-3P and Korg MS-20—and various soft synths, effects pedals, and digital software.
Douglas wrote and produced the album herself, using Ableton Live to manipulate her keyboard parts and compress and chop up the beats. "I'm somewhat like a sculptor artist, where I'm just chiseling away at sounds," she says. "I'm trying to chase this sound that's in my head." For additional instrumental contributions, she turned to trusted collaborators such as Jonathan Bates (a.k.a. Big Black Delta) on guitar, Meldal-Johnsen (Beck, Nine Inch Nails) on bass, Kristofer Persson (Gunnar Gehl) on drums, Kendall Reid on cello, and avid chamber musician Maia Jasper White on violin, all of whom contributed immense musical depth to the project. (Additionally, the artist's brother, film composer Philip White, sings background vocals on "Tinok.")
Douglas has spent much of 2020 finalizing the album's visual element—including a breathtaking "Clouds" video featuring 8mm home video footage juxtaposed over modern-day footage, evoking a story bleeding with nostalgia for a time we ache to visit again. But the bulk of the album was completed several years ago; Douglas was mixing it, with help from engineer Patrick Doyle, when she went into labor. "I remember being in the hospital, listening to mixes in my headphones," she says. "And it was wild. We got it done."